About Us
MyHotelYourHotel is a partnership created to encourage and straighten the relationships between hoteliers around the world. It is a source for friendships and for exchanging experiences that most probably would be out of our reach otherwise. After several years of experience in the tourism and hospitality market, we noticed the opportunity of creating a tool that would enable us to bring together hotelier friends from all over the world, to strengthen the bonds that may potentially result in commercial agreements. Our goal is to provide a complete user-friendly website, with the most sophisticated tools available that above all provides the possibility of adding new information, ideas and suggestions constantly, through a direct contact of the members of the club. The purpose of this goal is to offer the necessary mediums to carry out a successful exchange. Thank you for choosing MyHotelYourHotel, enjoy your exchanges !!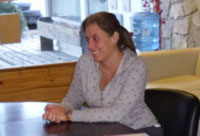 Mariana Merino
Patagonia Argentina / CEO
Mariana, founding member and commercial representative of MyHotelYourHotel. Mariana holds a bachelor in marketing from UCES university and has worked over the last 10 years as manager of several hotels in Patagonia, which enabled her, among other things to generate stay exchanges during a long period of time. Through this experience she was able to realize that the exchanges do not only allow you to save money, but also they open up the chance for true friendships.
Her passion for traveling and her entrepreneurial spirit, as well as her broad experience as a hotelier helped her shape this project, whose ultimate goal is none other than helping bring together hoteliers friends from all over the world.
KVmarketing
Buenos Aires, Argentina / CEO
KVmarketing is an associated agency responsible for the communications area of MyHotelYourHotel. KVmarketing is a comprehensive agency that works with the hotel and hospitality market. With over 10 years of experience in providing creative solutions for this industry, the directors of this agency knew right away that starting a project as MyHotelYourHotel was worthwhile.
The concept of the exchange, although as old as the world, has not been exploited during the last years. Being able to create a website that is efficient enough and trustworthy and that will enable people to leave behind their "shyness" and embrace the pleasure of meeting new people opens up a tempting and challenging niche.